IST Precision has a strong technical team that focuses on advanced technologies in nano and microtechnology. These areas include mechatronics, rotary spindles, microfluidics, microscale metrology and macroscale. Contact us to learn more about these topics or click on the links below to be directed to journal publications, technical papers, and presentations.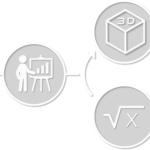 Brainstorming and Research
Our first step is always to present alternative solutions for an engineering design project by examining existing technologies and developing our own creative solutions. This combination helps to bring both elegant and state-of-the-art ideas to the concept phase.